New course opens in Vietnam - Stone Valley Golf Resort
New course opens in Vietnam - Stone Valley Golf Resort
Views: 1515
Tweet
Stone Valley Golf Resort near Hanoi, Vietnam, is in the final stages of grow-in of a new eighteen-hole golf course designed by Brian Curley.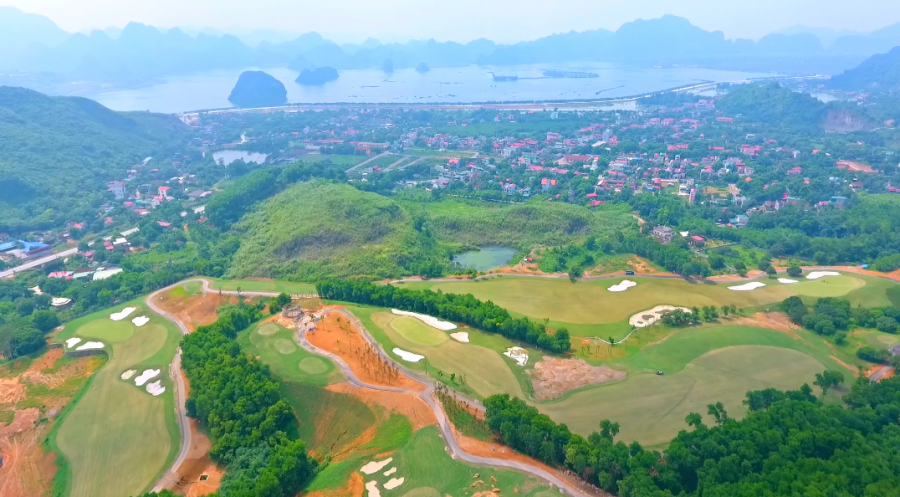 This sited located in Hanam province, 65km south of Hanoi capital
Earlier this August, developer Truong An Golf Company held a 'soft opening' celebration for the course, located in Ha Nam province, approximately 65 kilometres south of the capital.
The near-200 hectare site lies in a region known for river tours that weave through valleys between large, vegetated mountains, and has served as the location for feature films, including King Kong.
"The site offers dramatic elevation change but great care was taken to create a walkable course," said Curley.
The golf course is a core design, with the front nine playing through gentler valley floor terrain and the back nine features more dramatic elevation change.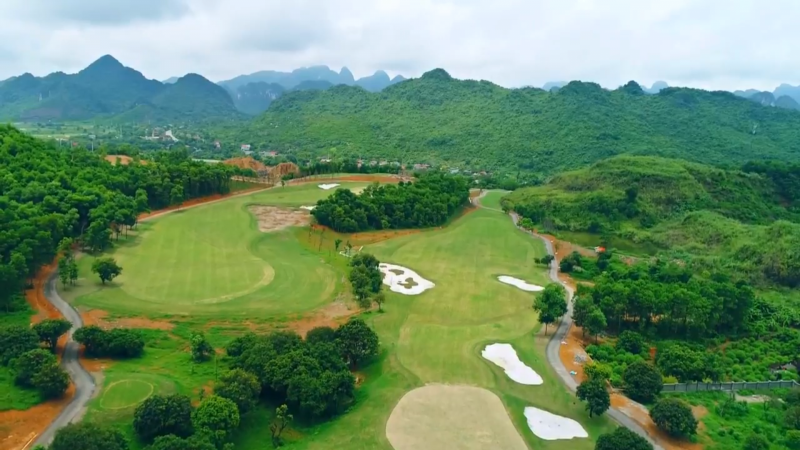 "The front nine features expansive low-flow networks of streams and wide lakes," said Curley. "Some holes feature exposed rocky fields much like we integrated into the lava-based courses at Mission Hills Haikou. These rocky areas are best featured on holes six, seven and eight where they dictate a risk-reward play. This is especially true at the driveable par-four seventh hole where carrying a vast field of rock sets up a speed slot fairway that directs the ball to the green, which features a dramatic 1.5-metre drop to a back, bowled-out lobe.''
"The back nine was a bit more difficult to create, but oddly enough, some of the best and most dramatic holes are on land that was the most effort to manage. This includes the short par-four fourteenth hole that required the manhandling of not one but two significant ridges to create a landing area and green site. My initial fears that these ridges would be rock were instead replaced by a welcome discovery of good material that was excavated and used as capping material for the lower holes.''
"The site conditions varied from decent, easily moved and shaped soil to very rocky material that yielded much-desired stone used for walls and streams. At the onset, we were not sure how much good material we would encounter but as we progressed we were able to create golf-friendly terrain from what was often good material that was sold to neighbouring projects in search of fill. The rough grading effort often reacted and adjusted to the ongoing unveiling of what material we would encounter, and the shifts that occurred resulted in some very dramatic holes."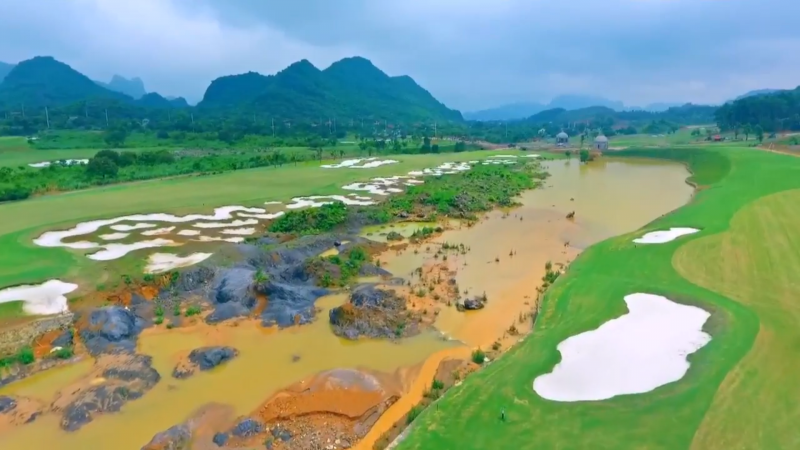 The course builds to a crescendo, with its four final holes playing from the highest elevations, with views across the valleys and mountains.
"The par-three fifteenth features very dramatic green contouring and a friendly kick-slope at the back, sending balls to the pin. Hole sixteen begins with a dramatic drop shot with the clubhouse in the near distance and turns right to a fall-away green with a strong backslope to contain shots. The par-three seventeenth and long par-four eighteenth play around the original quarry site, offering stunning views of contrasted turf, sand, rock, water, marsh, and natural outcrop backdrops, all with the tall mountain vistas.
"The design playbook certainly focuses on width of turf, mostly in fairway cut, as the surrounding surfaces are normally rocky and not conducive to finding one's ball. The width is utilised to set up angles of attack on many holes as well. Although the dirt moved was significant, the resulting terrain is very relaxed with a strong effort to avoid anything manufactured-looking, including any creation of mounds.
"Despite the heavy rainfall conditions that can occur, great effort was made to create as much surface flow as possible and avoid catch basin drainage, often relying on open channels. This was not difficult to pull off as many holes feature nearby streams and lakes but rarely in an overbearing manner that affects play to any great extent.
"The bunkering is large but needs to be given the scale of the property and the imposing mountains. To reduce the amount of required sand, and resulting maintenance, we often incorporated vegetated islands in these large sandy areas. The bunkers incorporate a sand line, not extreme and overly abrupt, but what I would call a clean, irregular-edged natural look. Most bunkers feature transitional edges to the native terrain."
The par-72 course plays 7,280-yards from the back tees and features Celebration bermudagrass fairways and tees, and TifEagle greens.
"The greens feature some very dramatic shaping including kick-slopes and ridges as well as bowls and strong feeder slopes and backstops, but always with fairly flat pinnable regions," said Curley. "Some of these are easily the most dramatic I have done. On return rounds, players will realise that the use of these strong slopes to assist shots is dictated by angles of attack and that wrong angles will create some havoc. I felt that the players will want to experience the dramatic views and terrain and want to hit shots that demand aggressive play at times, but I generally tried to promote the ball staying on the green, not being repelled.
"The result is a number of holes where players will happily see their ball rolling with dramatic results towards the hole, not away from it. I feel that, in this region, the only way to consistently realise ground game action like that found on links courses is to promote large greens and strong slopes. It also brings luck and chance into the game, sometimes with wild results, but always with an attitude that one is subject to the lay of the land and the whims of the course itself.
"Golfers should expect a course unlike most anything in the Hanoi market. The views will certainly bring them the first time and the unique design that promotes a challenging but fun round will bring them back for more."
Further work at the resort is now in planning, with resort and villa development expected to commence in the near future.
(Soursehttp://www.golfcoursearchitecture.net)
Tag: Stone Valley Golf Resort vietnam golf golf in vietnam
Tweet
Related News

24/01/2019
Graduates of Quang Nam-based Golf Operations and Maintenance Vocational College ensured jobs at Hoiana Shores Golf Club when the course opens later this year.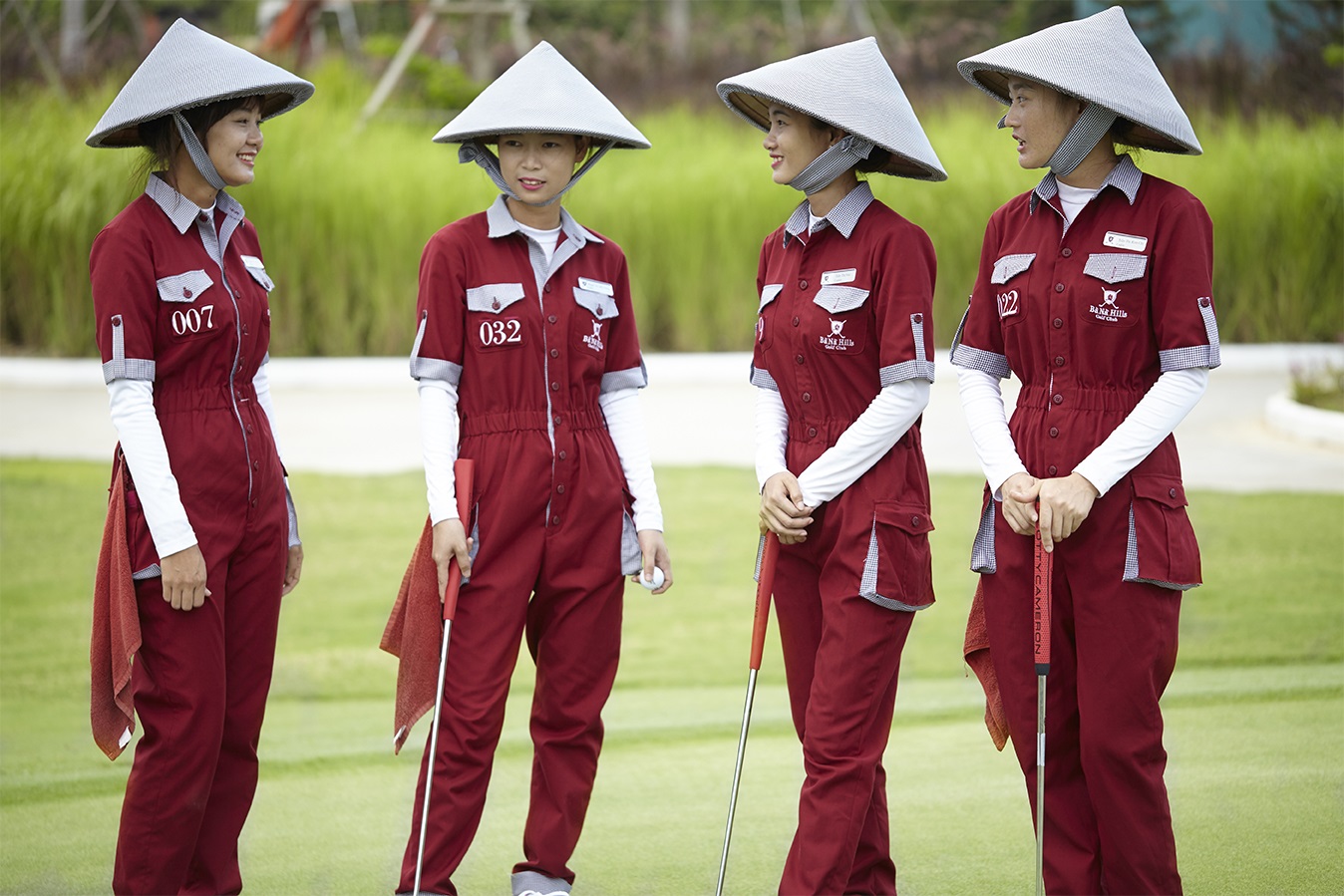 31/12/2018
Golf in Vietnam is especially intriguing. Though there are only about 40 courses throughout the country, and some of those tracks hold world-class distinction. The country is roughly the size of California, with Ho Chi Minh City (formerly Saigon) in the southern part of the country. Nearly a third of the golf courses are located in the south.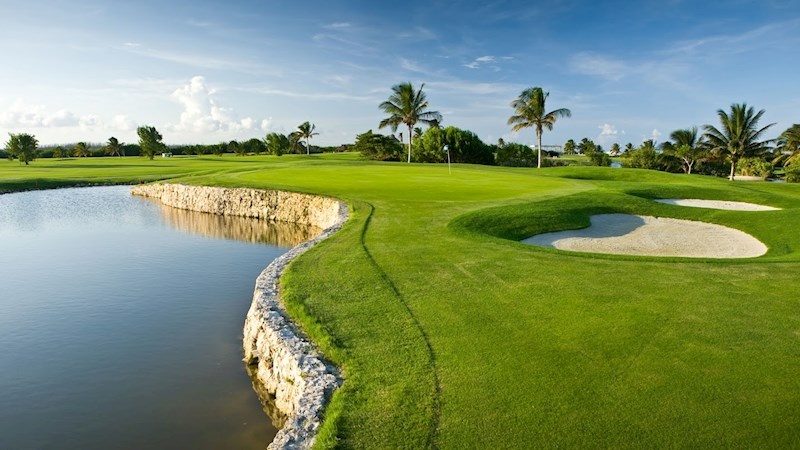 12/12/2018
A 146-ha golf course with 36 holes is an important part of the 2,870 ha Cần Giờ beach tourism area project in Long Hoà Commune, Cần Giờ District in HCM City.