The power of Vietnam's golf industry
The power of Vietnam's golf industry
Views: 1602
Tweet
BRG Group chairwoman Madame Nguyen Thi Nga, known as a savvy and sharp-witted female investor and owner of numerous well-known golf courses across the country, talks about her insights and expectations for the development of the king sport in Vietnam over the coming years.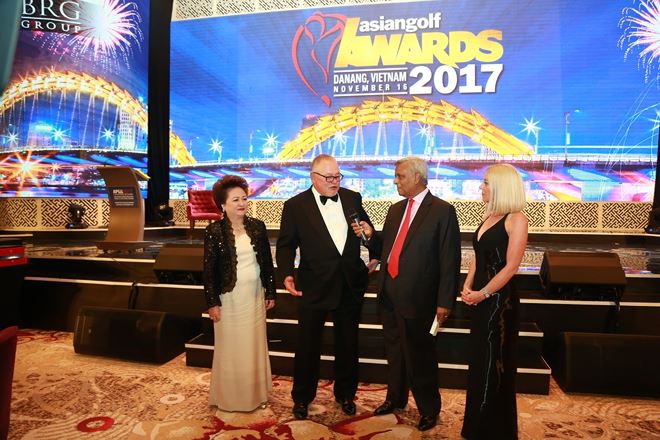 Passion-fuelled success
Having acknowledged the appearance of the golf industry in Vietnam around 1994, Madame Nga admits she took a few years to observe the situation before deciding to invest. The decision was appraised as a bold move since there were only around 1500 Vietnamese golfers recorded in 1999. Back then, golf courses were mainly found in the southern regions such as Song Be, Thu Duc and Dong Nai, with the only exception being Kings Island Golf Resort in North Vietnam. However, after nine years of treading water, foreign investors showed intention of divesting at Kings Island Gof Resort and transferring their shareholdings to other investors.
Seizing the opportunity, Madame Nga entered the investment game with no knowledge or experience of golf yet possessing a rare interest in a new industry and the quick wits of a business magnate. She was briefly involved in the negotiation process and bought off the whole ownership of the Kings Island Golf Resort.
Talking about her investment decision, Madame Nga noted, "The entrepreneurial spirit and the genuine interest in catering a sense of contentment to golfers were among the reasons that drove me to the final decision. The way I see it, Kings Island Golf Resort not only offers a sporty ambience but also a strong sense of nature."
After acquiring the golf course in Dong Mo, Madame Nga initiated the infrastructure construction and refurbishment of the Lakeside, one of the areas in the golf course. At the same time, she invited Australia-based Pacific Coast Design to design the new five-star golf tee named Mountain View. Madame Nga's only desire when collaborating with the Australian designers was to create a golf course in the northern region that could be chosen to serve diplomats, tourists and other golf enthusiasts.
The more Madame Nga invested in the business and in the game itself, the more attached she grew to golf. Thanks to her leadership in BRG Group, Kings Island Golf Resort was transformed from the 18-hole 87-hectra Lakeside to a 200-hectare course including the Mountain View, which qualified as a venue to host international golf contests.
Additionally, she also held possession of Haiphong-based Ruby Tree, BRG Da Nang Golf Resort and Legend Hills Golf Resort in Soc Son, Hanoi, all of which were previously designed by world legend Jack Nicklaus.
With 40 years of entrepreneurial experience, Madame Nga devoted half of her working years to the overall development of the golf industry as well as the overall performance of BRG Group. Taking golf as both a professional and personal interest, Madame Nga set an example of a female businesswoman taking bold moves and investment decisions in such a characteristic industry.
The hidden lady of golf
Although one of the pioneers in investing and developing golf courses in Vietnam, Madame Nga rarely talks about her successes in the country's golf industry.
When she does, her favourite story always starts with her memory of the time she paid a visit to Jack Nicklaus' museum in Ohio to sign the design contract for Legend Hill Golf Resort. At the museum, she felt pride upon seeing the Vietnamese national flag stuck in the world golf map. Inspired, she felt motivated to contribute more to the development of Vietnam's golf industry.
"Vietnam's golf industry is emerging rapidly and it has various hidden treasures needing investment and further exploration to get higher results," she said.
Madame Nga further added that, "a regular visitor only spends about $25-30 per day whereas a regular golf visitor could spend about $400 per day. If we attract a satisfactory number of golfing tourists, we would be able to draw a lot of foreign currency into such a smokeless industry. In order to achieve such a goal, both BRG and investors in Vietnam's golf industry need to further upgrade the service quality, creating golf courses of international standard and offering golfers the best experiences.
BRG Group recently launched the Kings Course at BRG Kings Island Golf Resort in Son Tay district. The course was designed by Jack Nicklaus's oldest son, offering more modern challenges and requiring more tactics from golfers and promising to be named among the world's go-to golf courses in the near future.
Golf courses under the management of BRG Group are gradually attracting more and more golf visitors, especially foreign ones. The average number of foreign investors coming to BRG Group-invested golf courses made up over 60 per cent, making significant contributions to the state's taxation and in turn creating more job opportunities in localities.
The group has concentrated on job training and English language proficiency for their employees, enabling them to learn more about the international principles of golf. Plenty of the group's employees can communicate fluently in English with foreign golfers and a number are also self-taught Korean and Japanese language learners. As a result, numerous golfers, especially Japanese players, have a special interest in using the course's services thanks to the staff's impressive communication skills.
However, speaking about the reasons behind the success of the sport's development in the country, Madame Nga stated, "The opportunity to contribute the most of myself to create more jobs and add up to the state budget instead of travelling overseas and spending more time for my personal life has turned my passion for the sport and the business into such happiness I share with other entrepreneurs in the business like me."
Source: VIR
Tag: Nguyen Thi Nga madam Nga BRG Da Nang Golf Resort Asia's first true bulkhead course golf vietnam golf hs golf chervo golfplus vietnam danang jack nicklaus nicklaus design vietnam golf golf vietnam
Tweet
Related News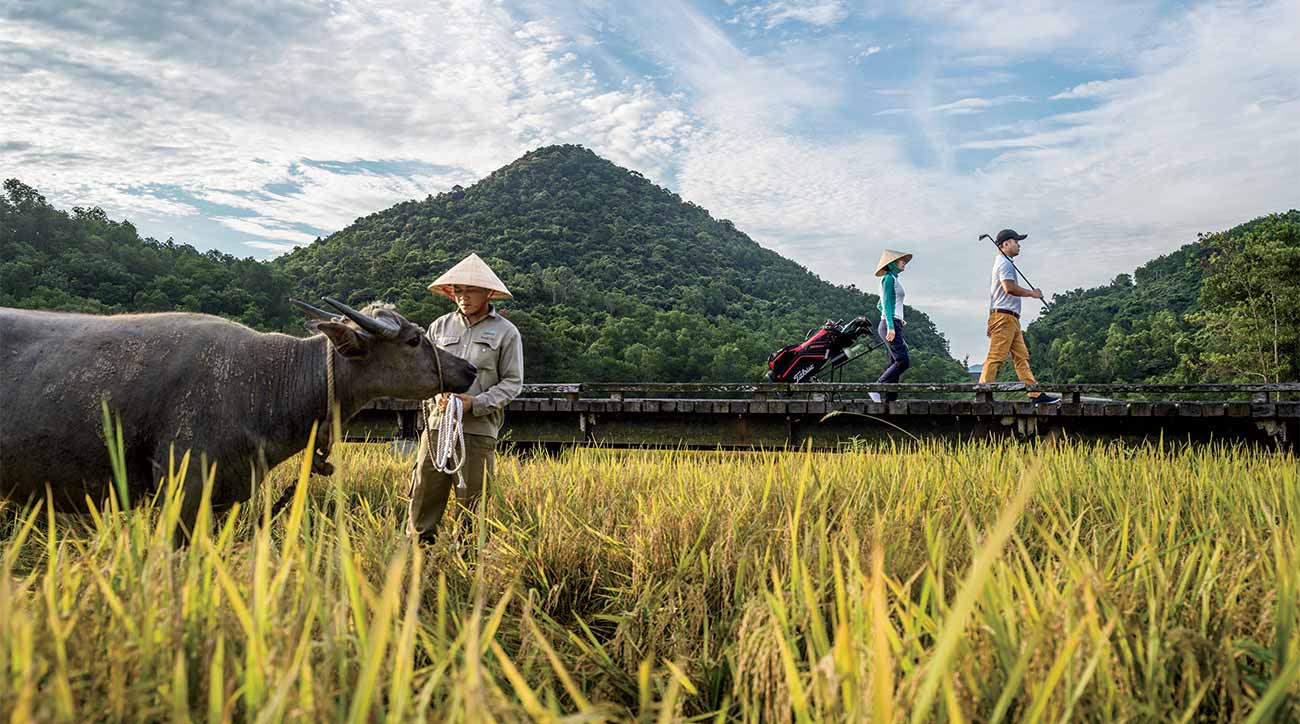 20/02/2019
Over the past decade, in the distant wake of golf's arrival in Japan and its more recent wildfire spread in Korea and China, a burgeoning monied class has given rise to a swelling population of Vietnamese golfers and triggered a starburst of course construction

24/01/2019
Graduates of Quang Nam-based Golf Operations and Maintenance Vocational College ensured jobs at Hoiana Shores Golf Club when the course opens later this year.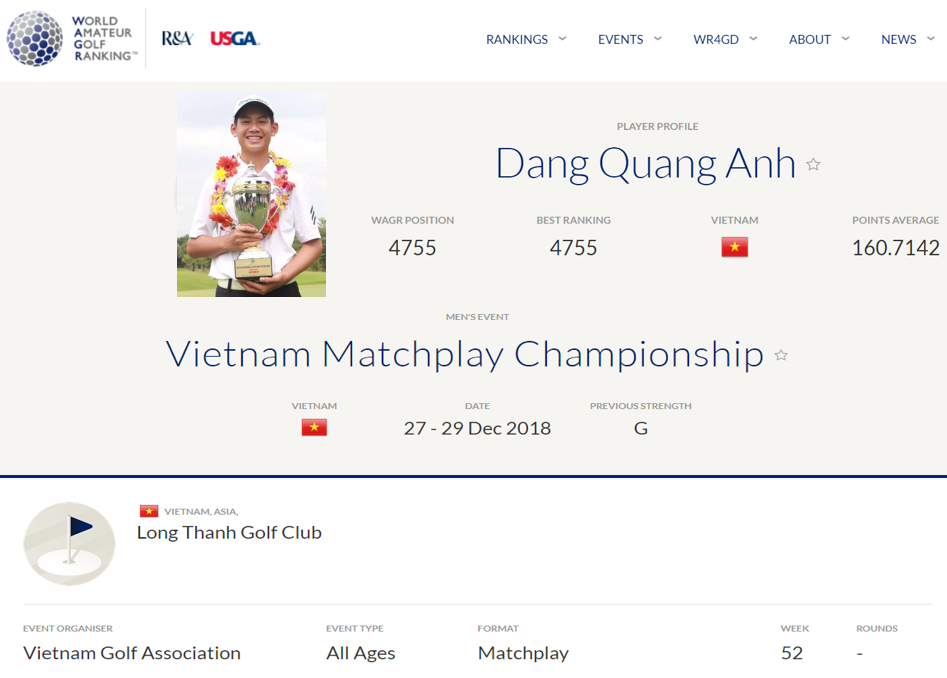 21/01/2019
13-year-old golfer Dang Quang Anh has entered the list of the World Amateur Golf Ranking (WAGR). Anh got the ranking after becoming the youngest winner of the event for amateur male golfers at Vietnam MatchPlay Championship which, together with the VPG Tour MatchPlay Championship, was held at Long Thanh Golf Course in late December 2018.