Vietnam triumph WAGC for second straight year
Vietnam triumph WAGC for second straight year
Views: 563
Tweet
Vietnam again emerged as the winners of the World Amateur Championship team event.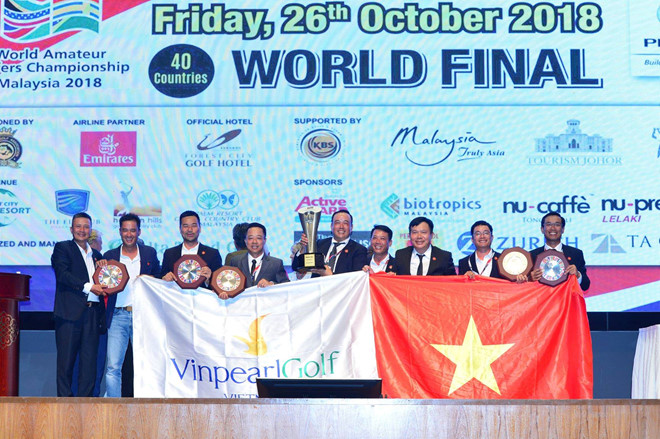 The 24th World Amateur Golfers Championship (WAGC) and the second to be held in Johor, proved a huge success again and was followed by news that next year the event will be staged in Sabah.
Malaysia had one winner in the individual category and a third place finish in the team event.
In the invitational category the home nation had another winner in the individual competition, as well as a silver and bronze, and won the team event.
Hosted at the Els Club Desaru Coast, Horizon Hills Golf & Country Club, Forest City Golf Resort and Palm Resort Golf & Country Club, the four-day tournament that had 450 golfers from 31 countries in attendance, saw Vietnam clinch the team title for a second straight year.
The South-East Asian nation tallied 1,160 to beat Singapore into second place by five shots. Malaysia were third with 1,176, while Finland were fourth on 1,189 and New Zealand fifth with 1,195.
Vietnam also had a winner in the individual 21-24 handicap category when Quoc Thuong Pham topped the leaderboard with a three-under-par 285 total and left Solvenia's Tomaz Kavnik to settle for second place, a shot back on 286 and Germany's Guido Konigs (298) in third place.
Malaysia's Sufian Riba clinched the honours in the 11-15 category with a 294 total. New Zealand's Grant Whelan (303) was runner-up and Alexander Carlsson (305) third.
Thomas Spearman-Burn, also of New Zealand, carded a 288 total for the title in the 0-5 category, while his compatriot Henry Gao (291) secured the 6-10 crown and Indonesia's Abdul Aziz (288) won the 16-20 category.
With a six-under-par 282 Malaysia's Roslan Ismail captured the top spot in the invitational 16-20 category, while Khairul Nizam Ayob (301) also did the country proud with a second-place finish in the 21-25 category.
Pauziah Abd Kadir (315) was third in the 26-30 category and the third Malaysian on the podium in the invitational competition.
Malaysia's Perodua 1 won the invitational team title with a 583 total and saw Austria 1 (585) take second place with Vinpearl Golf 2 in third spot with 593, while WAGC Philippines (596) were fourth and Vinpearl Golf 1 fifth with 596.
This was the seventh year that Perusahaan Otomobil Kedua Sdn Bhd (Perodua) was title sponsor of the tournament and it was a fitting finish by the team as they topped the team standings.
Delta Trend Golf & Leisure Holidays Sdn Bhd managing director and WAGC president Isac Saminathan confirmed that they, the organisers of the tournament, would host it in Sabah next year.
"This is a big event that brings together some 450 International golfers from the hospitality industry, mainly tour operators, representatives from airlines, hotel chains and tourism boards, and it's a big boost for Malaysia.
"It creates awareness of Malaysia being a premier golf and holiday destination in South-East Asia. And next year the 25th edition will be hosted in Sabah," added Saminathan.
RESULTS
Individual WAGC – 0-5: 1 Thomas Spearman-Burn (NZl) 288, 2 Samir Bedi (Sin) 290, 3 Tetsuro Sodeyama (Jpn) 292. 6-10: 1 Henry Gao (Nzl) 291, 2 Lari Hamalainen (Fin) 292, 3 William McKiegan (US) 295. 11-15: 1 Sufian Riba (Mas) 294, 2 Grant Whelan (NZl) 303, 3 Alexander Carlsson (Swe) 305. 6-20: 1 Abdul Aziz (Ina) 288, 2 Patrick Low (Sin) 293, 3 Dang Khoa Mai (Vie) 295. 21-24: 1 Quoc Thuong Pham (Vie) 285, 2 Tomaz Kavnik (Slo) 286, 3 Guido Konigs (Ger) 298.
Invitational 0-5: 1 Van Nam Doan (Vie) 290, 2 Santtu Malin (Fin) 291, 3 Tonito Payumo (Phi) 297. 6-10: 1 Lubos Bobocky (Slo) 295, 2 James Smith (US) 295, 3 Javier Sierra Sopranis (Mex) 302. 1-15: 1 Mayolito Pillerin (Phi) 289, 2 Oskari Hiltunen (Fin) 292, 3 Khairiansyah Salman (Ina) 293. 16-20: 1 Roslan Ismail (Mas) 282, 2 Marc Leviste (Phi) 285 , 3 Winston Cheng (Ned) 288. 21-25: 1 Viet Hong Cao (Vie) 292, 2 Khairul Nizam Ayob (Mas) 301, 3 Vikramajeet Singh Joon (Ind) 310.
26-30: 1 Phillpp Lienhart (Aut) 290, 2 Christoph Lorenz (Aut) 295, 3 Pauziah Abd Kadir (Mas) 315.
Team
WAGC: 1 Vietnam 1,160, 2 Singapore 1,175, 3 Malaysia 1,176, 4 Finland 1,189, 5 New Zealand 1,195.
Source: www.thestar.com.my
Tag: vietnam golf golf in vietnam WAGC Vinpearl golf
Tweet
Related News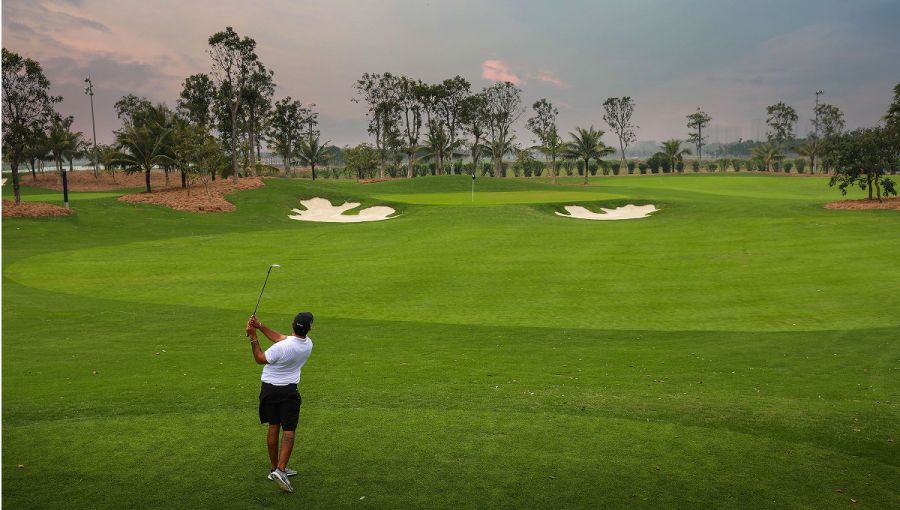 26/03/2019
Việt Nam's Academy Golf Course of the Els Performance Golf Academy (EPGA) has been nominated for an award for world's best par 3 golf course in 2019.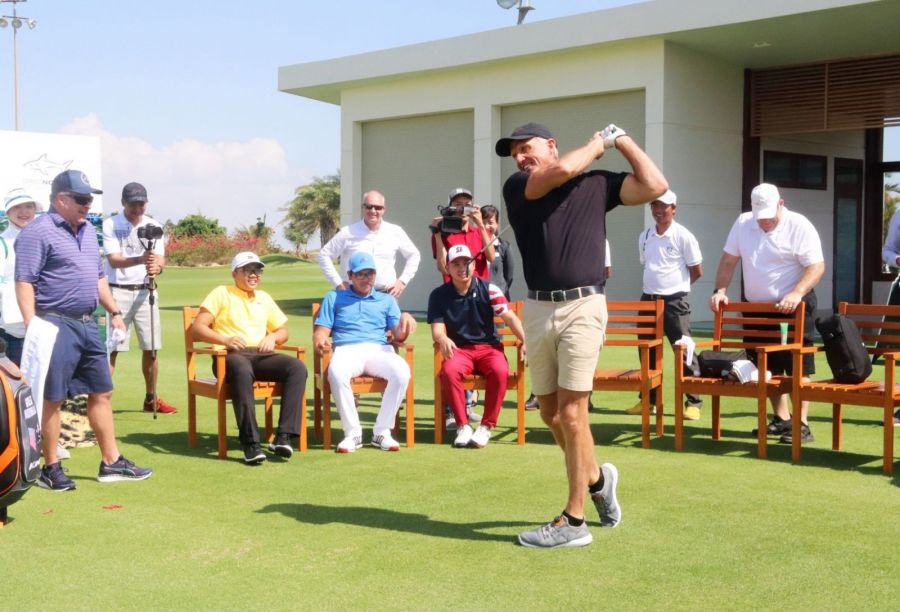 26/03/2019
Vietnam's Tourism Ambassador and KN Golf Links course designer, Mr Greg Norman made a flying visit to his newest signature course on March 19th, 2019 to launch his inaugural "Vietnam's Rising Stars' Golf Match presented by Greg Norman.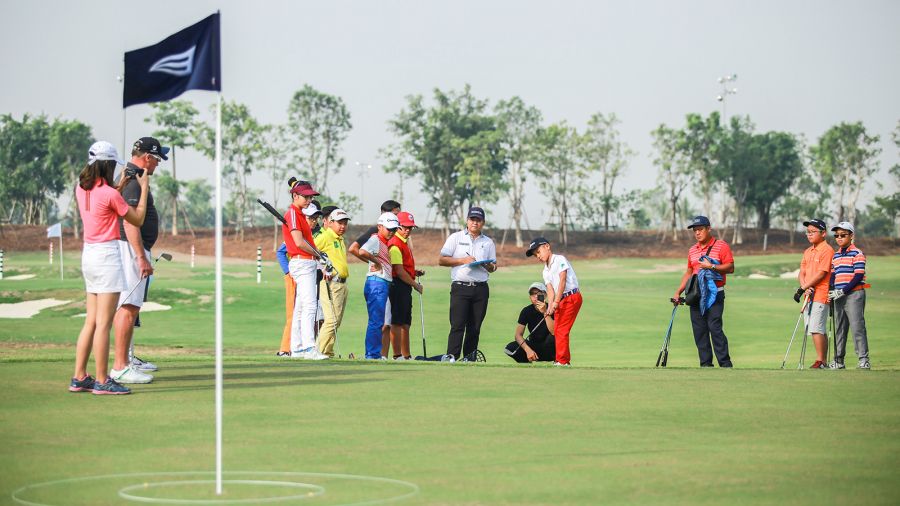 23/03/2019
The Viet Nam Golf Association (VGA) and the Els Performance Golf Academy (EPGA) — the first international golf academy in Vietnam — on Monday signed a co-operation agreement to promote golf among young people in Vietnam.