Woman makes hole-in-one, accepts marriage proposal on same hole
Woman makes hole-in-one, accepts marriage proposal on same hole
Views: 811
Tweet
What's more exciting: getting engaged on the golf course, or making a hole-in-one? For one soon-to-be-married young woman, it might be a tough call, because both milestones occurred within minutes of each other last weekend.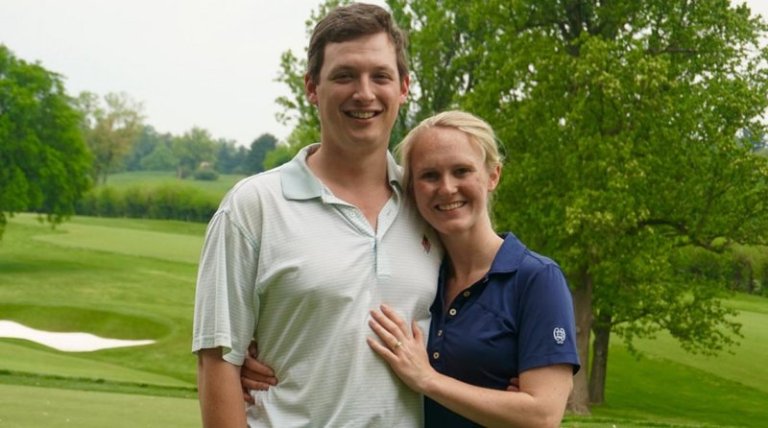 Hayley Milbourn, 29, of Baltimore, Md., and Jeff Scholtz, 31, of Darien, Conn., now have a barn-burner of a story for their future grandchildren.
The New York-based couple traveled to Baltimore for Mother's Day weekend and played a round of golf at Baltimore Country Club's East Course on Saturday. Milbourn's father joined them for the front nine. Scholtz was planning to propose on the 17th tee, and had secretly invited both his and Milbourn's family to join them for a celebration after the round.
But then: Golf happened. Milbourn, a former collegiate player at Amherst College, hit a 5-iron on the 149-yard par-3 13th hole.

"It took one bounce, and then went in the hole," Milbourn said. "I turned to Jeff, and I said, 'I took more club than I should have, it must have gone over the green.' And he said, 'No, no. That's in the hole.' And he looked so bummed! And I thought to myself, 'Oh my God, he's jealous of my hole-in-one. I have to play it cool now, because I don't want to rub it in his face.'"
Scholtz, of course, wasn't jealous (well, maybe a little bit), but rather, reeling from what he knew needed to be a quick revision of his proposal plans. The original proposal site, the secluded and picturesque 17th tee, simply wasn't going to cut it. Not after Milbourn's ace.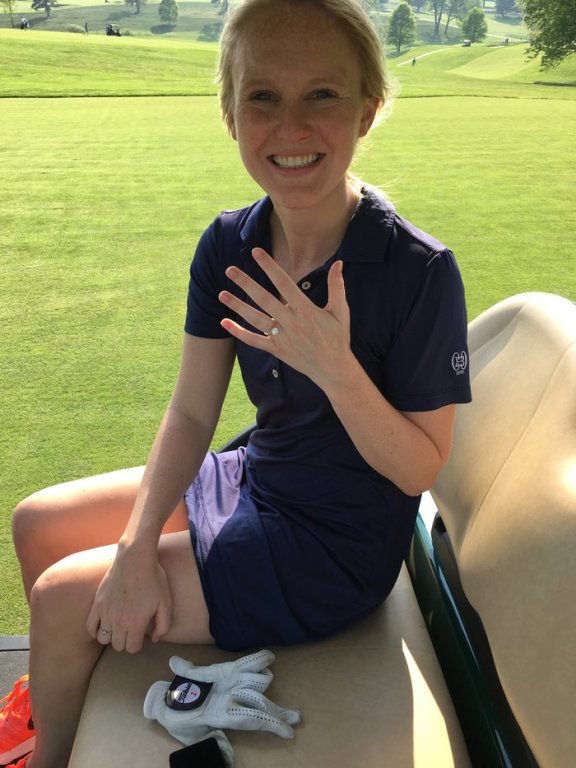 "We walked up to the green, [Scholtz] took a picture, and then we went to the next tee box and hit our tee shots on 14," Milbourn said. "We got back into the cart, and he wouldn't drive away. I was like, 'What is wrong with you?' And he just turns to me and says, 'I love you so much. Get out of the cart.' And he went to the back of his golf bag and pulled out a little box, and proposed right there."
It was Milbourn's second hole-in-one.
"There's only so much excitement a person can take," she joked. "I get a hole-in-one, and that's really exciting, and then all the sudden, you turn around and you're getting engaged. It was just the most amazing day. I don't know what could top that."
Hey, the couple that plays together stays together, right?
"I've already saved a couple golf-themed save-the-dates," Milbourn said.
Source: Golf.com
Tag: golf giải golf golf news vietnam golf golf vietnam giải đấu golfplus hsgolf chervo prgr lottusse hio
Tweet
Related News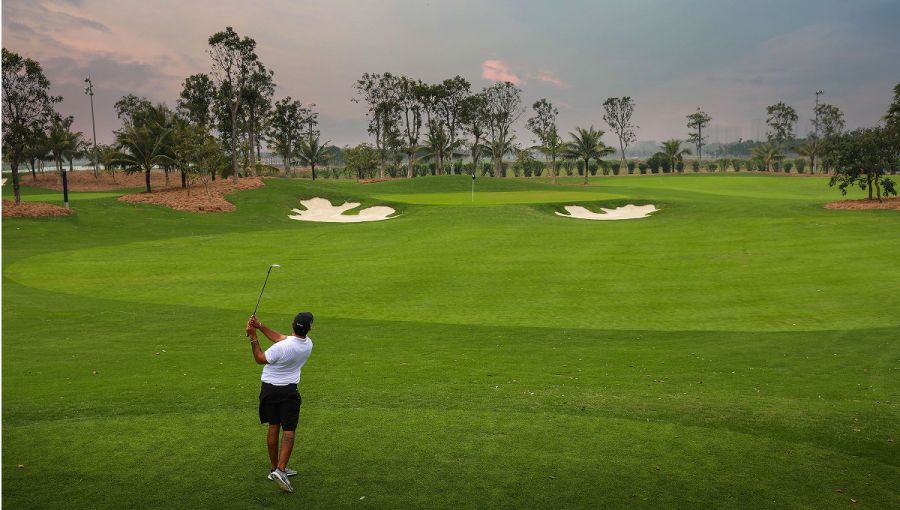 26/03/2019
Việt Nam's Academy Golf Course of the Els Performance Golf Academy (EPGA) has been nominated for an award for world's best par 3 golf course in 2019.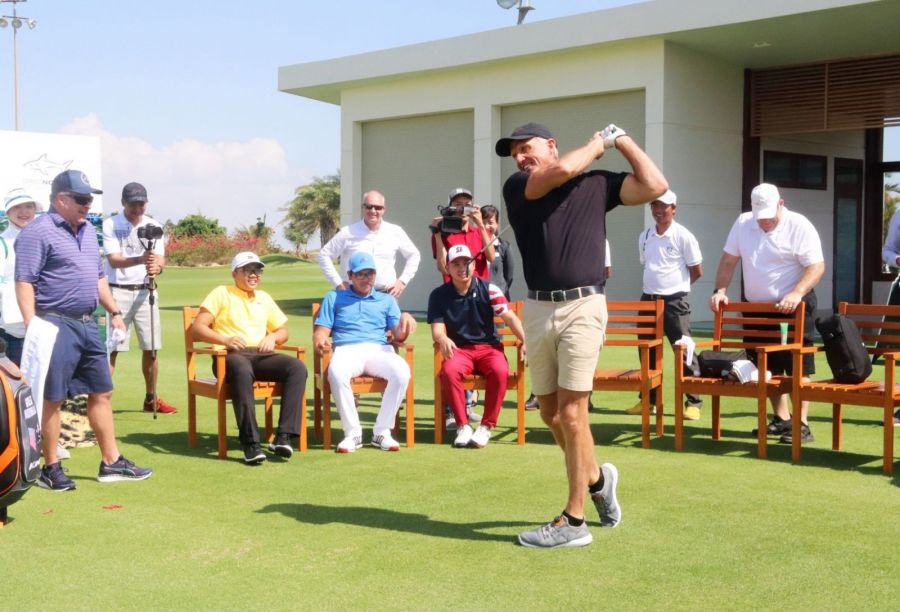 26/03/2019
Vietnam's Tourism Ambassador and KN Golf Links course designer, Mr Greg Norman made a flying visit to his newest signature course on March 19th, 2019 to launch his inaugural "Vietnam's Rising Stars' Golf Match presented by Greg Norman.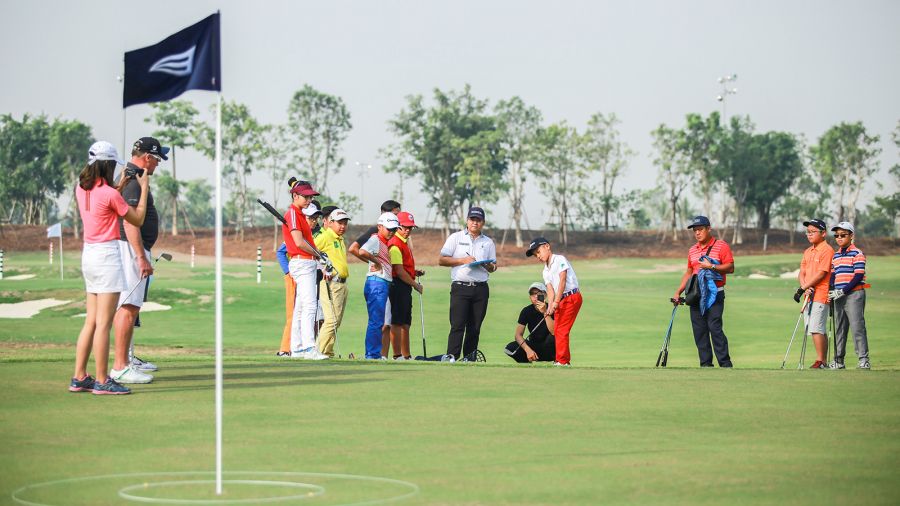 23/03/2019
The Viet Nam Golf Association (VGA) and the Els Performance Golf Academy (EPGA) — the first international golf academy in Vietnam — on Monday signed a co-operation agreement to promote golf among young people in Vietnam.