Excellent golf awaits in Vietnam
Excellent golf awaits in Vietnam
Views: 1651
Tweet
Golf in Vietnam is especially intriguing. Though there are only about 40 courses throughout the country, and some of those tracks hold world-class distinction. The country is roughly the size of California, with Ho Chi Minh City (formerly Saigon) in the southern part of the country. Nearly a third of the golf courses are located in the south, offering an incredible array of options, along with a wealth of culture and history. Jack Nicklaus, Colin Montgomerie, Nick Faldo and Greg Norman are among the designers with a footprint in the country.
Most foreign visitors fly into Ho Chi Minh City. After landing at Tan Son Nhat International Airport, you can tee it up in less than half an hour. Tan Son Nhat Golf Course is only a few minutes from the runway. Designed by Nelson and Haworth Golf Course Architects and opened in 2014, Tan Son Nhat Golf Course features 36 holes of golf. This high-end public golf course feature four nine-hole tracks, the A, B, C and D courses. Any combination will put you well over 7,000 yards for 18 holes if you wish. Throughout, you can see the rolling elevation changes which accommodate drainage during the rainy season.
Two championship 18-hole tracks can be found at the Vietnam Golf & Country Club. Located a short drive from Ho Chi Minh City, the East Course was designed by Lee Trevino in 1997, and the West Course by Taiwanese architect Chen King Shih in 1994. Both offer some of the best golf in Vietnam. Featuring tree-lined fairways and quick, flat greens, the West Course hosted the Vietnam Open in 1995 and 1997. The shorter East Course offers quick, undulating greens and more water hazards and sand traps. Both courses also have clubhouse restaurants.
About a dozen miles from the city center is the 27-hole Song Be Golf Resort. This popular course was the first international championship golf course in the country, and the first course in Vietnam to be officially rated in accordance with the USGA/SGA requirements. It features three distinct tracks, each with its own character, challenges and charm.
There are still numerous other quality courses in the greater Ho Chi Minh City area, like Twin Doves Golf Club, Long Thanh Golf Club and the Greg Norman-designed Bluffs Ho Tram Strip. Golf courses can also be found up north towards Danang and Hanoi. In addition to the aforementioned 40+ courses currently available, Vietnam has a few dozen courses in various stages of design and construction.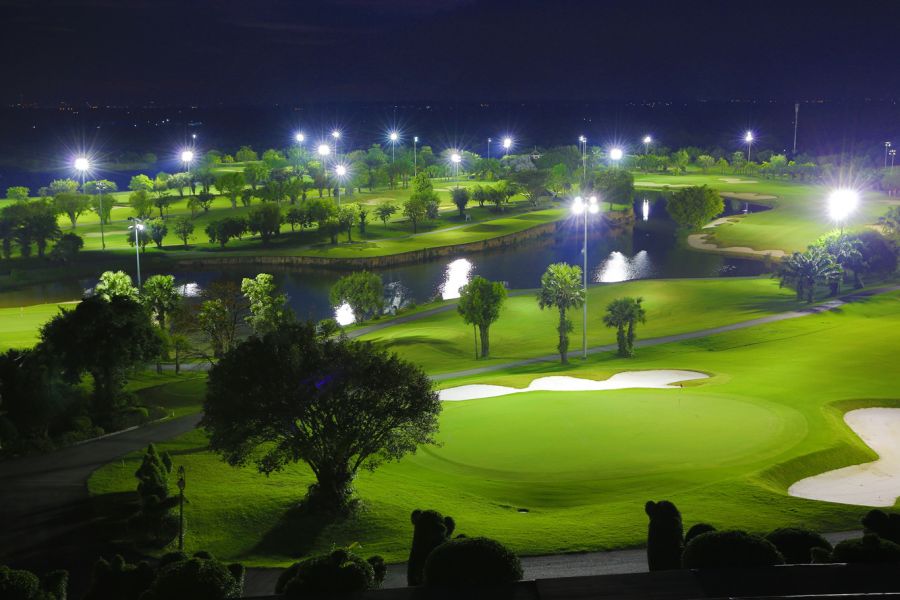 Night golf is popular at Long Thanh Golf Course.

Daytime vs. night time golf
Obviously, playing during the daytime in the year-round sweltering heat of Vietnam can sometimes be a challenge. The climate in Vietnam is tropical, with the rainy months usually from May through October. The dry season – with less humidity – usually runs from December through April.
To attract more golfers and to accommodate the intense heat, night-time golf is available at many courses throughout Vietnam. During my recent trip, I played both at night and during the day, and if given the choice, I prefer playing after the sun sets. Though I heard misgivings about not being able to see the ball clearly at night, I had no problem at all picking up the ball thanks to the numerous flood lights. The fact that it is cooler at night was also a blessing -- if you consider 85 degrees Fahrenheit cooler. The drawback to night-time golf can be the pesky mosquitos, but they're nothing a good dose of bug repellent can't tame.
Vietnamese caddies often wear the traditional non la style of hat.

History and culture abound
Golf aside, it would be a crime to visit this wonderful country without seeing and experiencing some of its cultural and historical offerings.
After a few rounds of golf, I got a massage at a unique shop called Anh Duong. This company employs more than 30 blind and disabled technicians, all of whom are certified by the University of Medicine and Traditional Medicine of Ho Chi Minh City. They offer a variety of relaxing services such as herbal steam bath, body massage, foot massage and hot stone. In a spartan room on the second floor, I received an excellent 90-minute massage that included hot stones. With a generous tip, it still only cost the equivalent of $12.

A cultural highlight is the Women's Museum of Southern Vietnam, which offers free admission and is really worth a visit. Spread throughout three floors, this unique museum features an overview of the culture, dress, and occupations of women over the last few centuries in Vietnam. It also highlights the achievements of dozens of Vietnamese women who have been successful in business, politics, and the arts.
One of the items on display at the museum is the ubiquitous non la. This iconic image of Vietnam is also popular headwear with many women caddies.
Known by a variety of names -- cone hat, conical hat, paddy hat and leaf hat, to name a few -- the non la is also used by locals as protection from the sun and the rain, as well as a makeshift basket and even to collect rainwater. It is believed that the non la has existed for more than 3,000 years. There are regional variations across the country, but none are more intriguing that those produced in the town of Hue, in the middle part of the country. The non bai tho, or "poem hat," incorporates lyrics into the layers of leaf material when it is made, which only become visible under sunlight. I thought about bringing one of these back as a souvenir, but then remembered that I live in the Pacific Northwest where I'd probably never see the inscription!

The largest city in Vietnam with 8.5 million people, Ho Chi Minh City also has another intriguing statistic: There are about 7.5 million motorbikes or scooters plying the city streets as well. Driving in the city is simultaneously exciting, exhilarating and terrifying. Like a never-ending but polite game of chicken, scooter mania is experienced by all walks of life, including visiting Americans! You can see people wearing suits and ties in dress clothes for work, construction workers transporting their tools and equipment, and even a family of five! And if you think you're safe as a pedestrian, think again. When the streets get too jammed with vehicles, sidewalks suddenly become alternative streets. And nearly every business and home has a scooter or two inside the building; like part of the furniture ensemble.

A few things to know about Vietnam
Though U.S. dollars are widely accepted, the local Vietnamese currency is the Dong, with roughly 22,000 Dong to one dollar. When visiting the country, you will need a visa, which costs about $30 for a one-time entry and is good for a three-month window.
A reasonable three-star hotel in the heart of Ho Chi Minh City will run about $30 a night. Food is inexpensive as well. I treated six people to dinner one night at a decent restaurant and the total bill with tip was less than $25. I jumped on a water taxi to cross the Saigon River a few times one day, and the total fee was less than 22,000 Dong.
Exploring the many shops and small restaurants is a treasure in and of itself. Visiting Vietnam is an incredible experience, especially if you include a few rounds of golf.

Source: https://thegolfnewsnet.com
Tag: vietnam golf golf in vietnam nicklaus greg norman
Tweet
Related News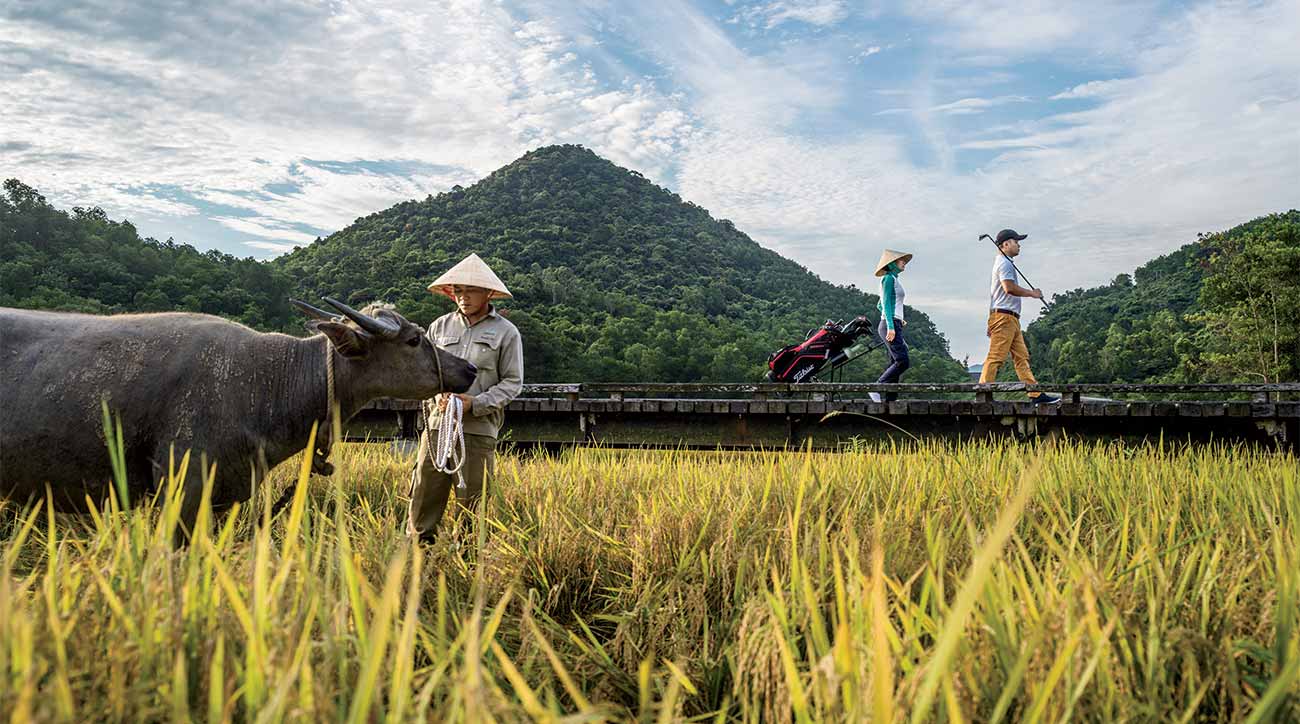 20/02/2019
Over the past decade, in the distant wake of golf's arrival in Japan and its more recent wildfire spread in Korea and China, a burgeoning monied class has given rise to a swelling population of Vietnamese golfers and triggered a starburst of course construction

24/01/2019
Graduates of Quang Nam-based Golf Operations and Maintenance Vocational College ensured jobs at Hoiana Shores Golf Club when the course opens later this year.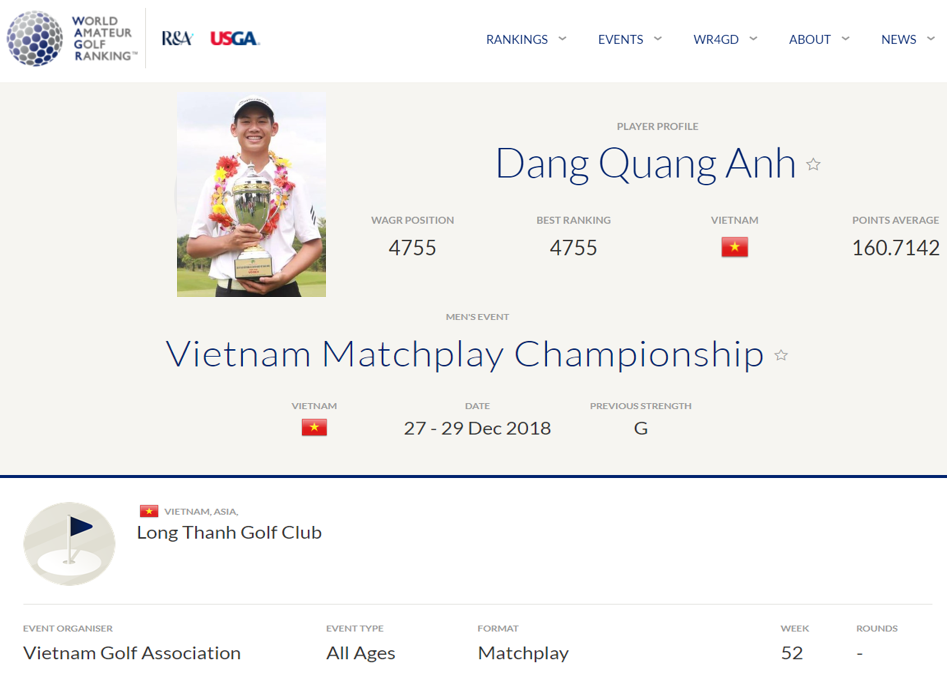 21/01/2019
13-year-old golfer Dang Quang Anh has entered the list of the World Amateur Golf Ranking (WAGR). Anh got the ranking after becoming the youngest winner of the event for amateur male golfers at Vietnam MatchPlay Championship which, together with the VPG Tour MatchPlay Championship, was held at Long Thanh Golf Course in late December 2018.