BRG Group's Golf Course Quartet Join Asian Golf Industry Federation
BRG Group's Golf Course Quartet Join Asian Golf Industry Federation
Views: 1197
Tweet
The BRG Group's four existing golf clubs have joined the Asian Golf Industry Federation (AGIF) as Golf Course Facility Members.
One of Vietnam's most active golf course owners and developers, the BRG Group's golfing portfolio includes BRG Kings Island Golf Resort, BRG Ruby Tree Golf Resort, BRG Danang Golf Resort (pictured) and BRG Legend Hill Golf Resort, venue for last month's AGIF-organised Vietnam Turfgrass Management Seminar and Field Day.
In addition to its golf courses, the BRG Group has Hilton Hotels, one of the largest commercial banks in Vietnam, Honda dealerships and many other interests.
A spokesperson for the BRG Group said: "BRG Group and its associated companies create and sustain tens of thousands of jobs, offer professional career opportunities throughout Vietnam and attract international talent and investment to support national growth.
"We are pleased to be joining forces with the Asian Golf Industry Federation and look forward to contributing to the development of golf in Vietnam and the region in the months and years ahead."
BRG Legend Hill Golf Resort
Eric Lynge, the AGIF's Chief Executive Officer, said: "We salute the efforts of the BRG Group for all they have done, and are continuing to do, to develop golf in Vietnam.
"The exceptional standards that they are setting with their golfing establishments is proving to be an excellent benchmark for all golf clubs in the country and across Southeast Asia.
"At the AGIF, we very much look forward to working with the team at BRG Group to further promote the game during these exciting times for golf in Vietnam."
Less than 40 kilometres from Hanoi, the Kings Island Golf Resort complex consists of 36 holes on 350 hectares of land and 1,500 hectares of waterfront.
Designed by American Robert McFarland and opened in 1993, the Lakeside Course is so named because of the abundance of water. Meanwhile, the Mountainview Course was sculpted by Australia's Pacific Coast Design Company (PCDC) and opened in 2004. It is memorable for the vistas of the surrounding mountains in the Vietnam Ethnic Culture and Tourism Village.
A third 18-hole course at the venue, designed by Jack Nicklaus II, is currently under construction and is due to open in October.
Located 30 kilometres northeast of Hanoi, BRG Legend Hill is easily accessible from Hanoi (30 minutes driving) and the Noi Bai International Airport (10 minutes driving).
The club is set in the foothills of a legendary property in the Soc Song District, adjacent to the Soc Temple, which was made famous by Phu Dong Thien Vuong (the heaven-sent king of Phu Dong Village), better known as Thanh Giong ('Saint' Giong). As a mark of respect for one of the 'Four Vietnamese Immortals', the golf course was named 'Legend Hill'.
Opened in 2015, BRG Legend Hill Golf Resort is Nicklaus Design's first golf course in Vietnam. It is also the first golf course in Vietnam to have adopted a unique 'twin green' design concept. The 36 different greens within one 18-hole golf course create a wide variety of hole combinations.
Located in the Do Son coastal resort district, just 15 minutes from the centre of Hai Phong, BRG Ruby Tree Golf Resort's PCDC-designed resort-style course plays through a landscape of palm trees and waterways and is visually spectacular. The first nine holes were unveiled in 2008 with the second nine completed a year later.
On Vietnam's Central Coast, amid 150 hectares of dunescape, the Dunes course is situated in Danang. Its chief feature is a 7,160-yard, 18-hole, links-style layout that was designed in the true spirit of the game by Australian Greg Norman – blown-out bunkers, firm and fast fairways that bleed gently into wild seaside vegetation, rugged waste areas, swales and hollows.
It lies in close proximity to two of Vietnam's most historic destinations – UNESCO World Heritage sites Hoi An and Hue – and offers breathtaking views of the Marble Mountains, East Sea and Cham Islands.
A second 18-hole course by Nicklaus Design is under construction at BRG Danang Golf Resort and due to open in October.
The new courses are part of a multi-course agreement between the BRG Group and Nicklaus Design.
The BRG Group spokesperson said: "This agreement symbolises the binding business relationship that exists between the BRG Group and Nicklaus Design, and it serves as an important step in our strategy to offer more international standard golf courses in Vietnam."
BRG Group has also signed an exclusive contract to open four Jack Nicklaus Academy of Golf facilities throughout Vietnam to strengthen golf development and professional skills training.
Meanwhile, BRG-owned hotel Sheraton Danang will complete construction, open and host the gala dinner for the Asia Pacific Economic Cooperation Forum (APEC) 2017 with 21 world leaders in attendance in November.
Tag: BRG Group Asian Golf AGIF Asian Golf Industry Federation BRG Group BRG Legend Hill Eric Lynge Jack Nicklaus II Kings Island Golf Resort Nicklaus Design Pacific Coast Design Company danang golf
Tweet
Related News

24/01/2019
Graduates of Quang Nam-based Golf Operations and Maintenance Vocational College ensured jobs at Hoiana Shores Golf Club when the course opens later this year.
31/12/2018
Golf in Vietnam is especially intriguing. Though there are only about 40 courses throughout the country, and some of those tracks hold world-class distinction. The country is roughly the size of California, with Ho Chi Minh City (formerly Saigon) in the southern part of the country. Nearly a third of the golf courses are located in the south.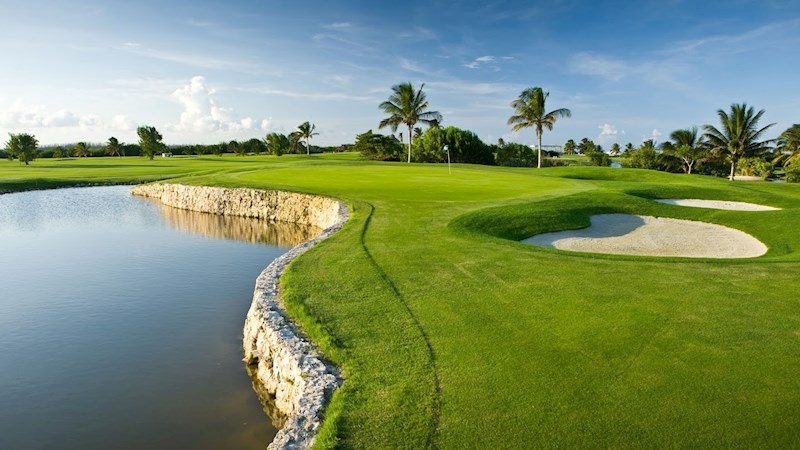 12/12/2018
A 146-ha golf course with 36 holes is an important part of the 2,870 ha Cần Giờ beach tourism area project in Long Hoà Commune, Cần Giờ District in HCM City.